The Brecon Beacons National Park is one of the many idyllic pieces of countryside Wales has to offer. I've lived and spent my university life in Wales and this is always one of my go to places to visit for a day trip or few nights away. If you've booked a "staycation", a relaxing night away or looking for inspiration for the best places to visit in the Brecon Beacons, this is a blog post you're going to love.
Brecon Beacons National Park is located in South Wales. It's the perfect trip for anyone that enjoys exploring rolling countryside and valleys. The area is a hiker's dream, made up of incredible mountainous scenery, waterfalls, cute little towns, castles and a vast amount of wildlife. It was established in 1957 and covers a whopping 519 square miles.
You may have heard about the Brecon Beacons for the highest peak in South Wales, "Pen y Fan" at 886m above sea level or for the tallest waterfall in South Wales used in the Batman film "The Dark Knight", with a drop of 90 feet.
I'm going to share with you my favourite places to hike and visit in the Brecon Beacons. From swimming under waterfalls to discovering fairy caves and seeing views right across Wales, my time in Brecon Beacons National Park has been nothing short of adventurous!
How to Get to Brecon Beacons
Best way to get to the national park is by car, it's within easy reach of the M4, M50 and A40. Alternatively, there is hourly trains direct to Abergavenny (southernly point of the Brecon Beacons) on the Cardiff-Manchester lines. There are trains from Cardiff to Merthyr Tydfil every half an hour and trains from Swansea and Llanelli to Llandovery running 4 times daily.
Where to Stay in the Brecon Beacons...
There are lots of quirky AirB&B's and sumptuous hotels. My favourite towns to stay at would be Llandeilo, Abergavenny, Crickhowell, Brecon and Hay on Wye. You can check these out on AirB&B, booking.com and hostelworld.com.
The best time to visit...
Summer months are the most popular with the long days, bright skies and warmer temperatures making it ideal for outdoor activities. Spring and autumn are usually crowd-free and have gorgeous colours. Winter is quieter and for the more experienced hikers, however you get the joys of snow-dusted peaks. Wales is known for its rain – so whatever the season be prepared to bring your waterproofs.
Best places to visit in the Brecon Beacons:
Pen-y-Fan, the highest peak in South Wales features some of the most spectacular views from its summit. It is very popular with walkers and hikers, with the base only being 1 hour from Cardiff city centre. It offers the most spectacular sunrises and sunsets overlooking the hills and valleys. There are four main routes to the summit of Pen-y-Fan.
-
Pen y Fan from The Story Arms or Pont ar Daf – the gentle one.
This is the most popular route of them all, starting at around 440m and climbing to the peak of 886m is very manageable. It has gentle incline and can be tackled by small children. This route usually takes around 1 -1 1⁄2 hours, maybe longer if you stop to take photographs – which I guarantee you will!
Parking – Pont ar Daf carpark (LD3 8NL)
-
Pen y Fan - The Beacons Circuit
This is for the more advanced walker and follows an 11-mile circuit passing Corn Du (873m) and Cribyn (795m).
Parking – Pont ar Daf carpark (LD3 8NL)
- Pen y Fan - Cwm Llwch walk from Cwm Cwdi
This is another challenging walk but only 7.5 miles. It starts at Cwm Gwdi car park and follows a track up to Cefn Cwm Llwch ridge. On the clearest of day at the summit of Pen-y-fan you can see all the way to Snowdonia.
Parking - Cwm Gwdi carpark
There are several waterfalls found within the Brecon Beacons, with the area given the nickname "Waterfall Country". The 4 waterfalls walk is a circular path through the woodland of the "waterfall country". The walk starts at Cwm Porth car park and leads to the four waterfalls, Sgwd Clun-Gwyn, Sgwd Isaf Clun-Gwyn, Sgwd y Pannwr and Sgwd-yr-Eira. Each of the waterfalls are incredible with Sgwd-yr-Eira being the largest and if you're feeling brave enough you can walk behind the falls.
Parking – Cwm Porth car park, the nearest postcode CF44 9JF
This is the tallest waterfall in South Wales, with a drop of 90 feet. The falls featured in the Batman film "The Dark Knight". It is quite a slippery route so ensure you have a good water boots on. You can also walk behind this water too! 
Parking –free national trust carpark by the entrance to the falls in Coelbren SA10 9PH.
4. Llyn y fan Fach and Llyn y fan Fawr
Saving the best till last (in my opinion). This is one of my all-time favourite hikes, an 18km circular route taking around 4-5 hours to complete. Located in the western beacons known as the Black Mountain Range is one of the remotest areas of the whole of the Brecon Beacons National Park. The route is less known to tourists but becoming a popular favourite over the last year. It is a stunning scenic ridge way walk, passing two beautiful lakes (Llyn y fan Fach and Llyn y fan Fawr) with gorgeous panoramic views.
The walk follows a picturesque river drawing you to the first lake, Llyn y fan Fach. At the base of the lake is a small rescue hut and offers emergency shelter for hikers in extreme weather conditions. Following the footpath along the well- defined ridge, sweeps around the edges of the peaks. This spot has the most spectacular jaw dropping views with the Cambrian Mountains seen on a clear day.
Following the ridge leads you to the summit of Picws Du (second highest peak in the Black Mountain Range). The next lake to come into view is Llyn y fan Fawr which translates from welsh as "lake of the big peak" as it's one of the largest lakes in South Wales.
The area surrounding Llyn y fan Fawr is marsh land and can be boggy. There is a path leading around the lake, however at times it is not well defined. The path heads west and leads back to Llyn y Fan Fach route
Parking – Llanddeusant, the road to the carpark is very narrow and uneven so ensure you take care when driving. It is a very small carpark so ideal arrive here early especially if it's a clear sunny day.
5. Fan y Big
This is the most famous for its stone slab resembling a diving board overlooking the peaks of Corn Du, Pen y Fan and Cribyn. It's a 12km circular walk with gorgeous 360 views of the Brecon Beacons.
Carpark – Neuadd Carpark
6. Sugar Loaf Mountain, Monmouthshire
This is a shorter and smaller climb than the other mountains, with a height of 596m. From the peak you can see gorgeous views of Abergavenny, Usk Valley and the Brecon Beacons.
Parking – Sugar Loaf Car Park, Llanwenarth
7. Elidir Trail (+ Sgwd Einion Gam Falls).
This is a 2.5 mile walk through the majestical woodland of the waterfall country (Brecon). Parking – Pontneddfechan carpark
8. Horseshoe Ridge Walk
This is the most demanding route of them all, following a 9-mile circuit (14k) encompassing 4 peaks. Starting at Taf Fechan Forest to Corn Du (873m), Pen y Fan (886m), Cribyn (795m) and Fan y Big (719m). The walk takes roughly 6-7 hours.
Parking – Taf Fechan carpark.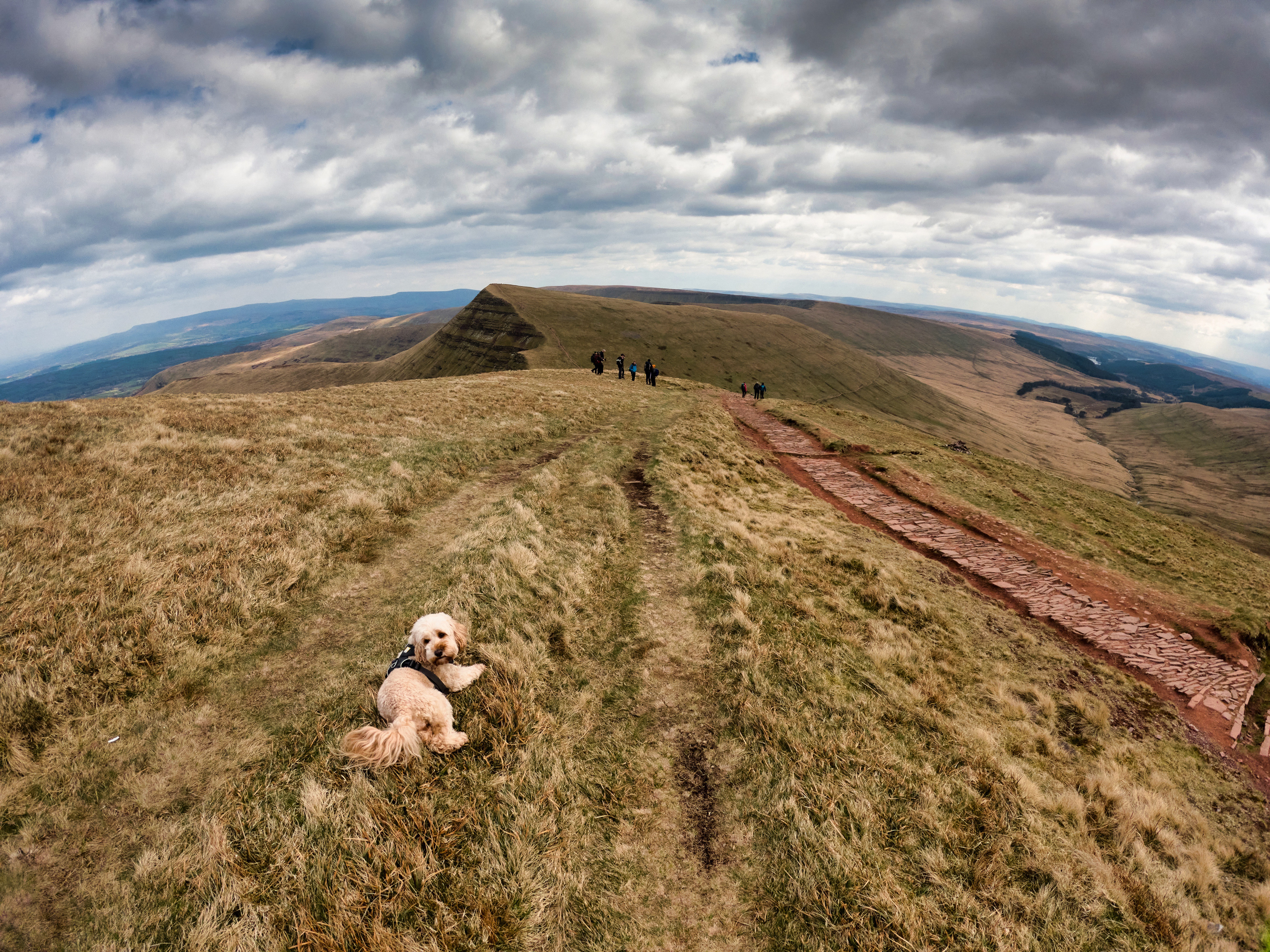 9. Carreg Cennen Castle
Situated in the Black Mountains. This
is one of the most picturesque romantic
castle ruins. It has stunning views over the rolling Carmarthenshire hills. Carpark – Carreg Cennen Castle Farm carpark.
10. Pontsticill Reservoir
This is one of the many stunning reservoirs found in the Brecon Beacons National Park. Located a few miles north of Merthyr Tydfil, it encompasses a 5.5 mile circular loop around the reservoir.
NB: There is a bridge crossing on this walk, check prior to starting if its open. The bridge may be close depending on weather conditions.
Carpark – CF48 2UW